It's been a busy few weeks. Lots of traveling, Finowfurt, Black Rock City, New York City and last week to Washington, DC for the Solar Decathlon. The Solar Decathlon is an exhibition where 20 student teams compete in 9 categories centered around energy efficiency. I had been wanting to go to the Decathlon for the past couple of years, but always had a Lack of Energy, Job And No Time Off problem. This year I have manifested a Great Work Situation (more on that in a future post – Doing What You Love, 4/7 of the time).
The Solar Decathlon was very interesting. Solar is getting to be fairly cheap (half the price of two years ago!), and I think of it as simply a space-needy power source with a ton of rules and regulations ostensibly for safety. I didn't perceive the Decathlon as having a main focus on solar, either. All of the homes were solar-powered, but rather than being presented as innovative, it was a given (YEAH!).
I was a bit bummed that there wasn't a clear comparison about how much energy it takes to manufacture a solar panel and ship a solar panel versus how much energy the panel provides in its lifetime. Obviously the panel provides a bunch more energy, but how much more?
A couple of the homes had electric heat pumps that took care of heating and cooling. I'm always interested in temperature controls (staying warm, particularly) and spent some time checking the heat pumps out. A heat pump basically moves air around with little energy because heat will move naturally from a high temperature to an area with a lower temperature. A heat pump has a valve in it that can reverse the flow of the air, allowing heating or cooling. Here's a generic heat pump concept video directly from SRP's website.

Check it out (you'll need Quicktime movie viewer):

HEAT PUMP MOVIE
My favorite home design was Caltech's CHIP home.
This photo shamelessly taken from the CHIP website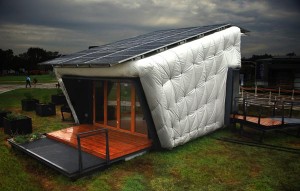 There were some cool quirks within the home such as custom furniture that fit into the walls and Kinect-controlled lights.

Custom furniture in the interior
This photo also shamelessly taken from the CHIP website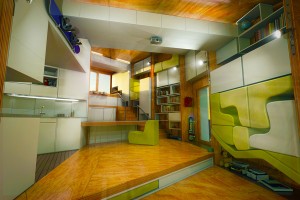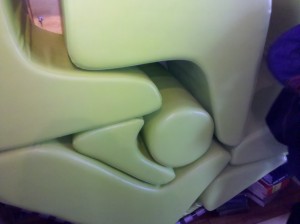 I loved this table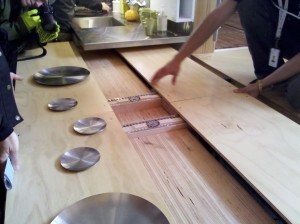 Here's a close up of the CHIP house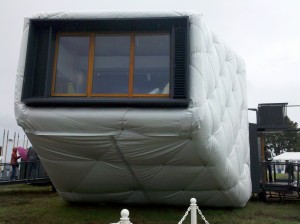 Up next: as soon as I take possession of Far McKon's spare Kinect, I'm gonna make something cool.