This year, Ollie Tanner and I brought the Texting Trapper project to the Bay Area Maker Faire.

Update: This project was in the MAKE: Blog … Hooray!
I'm also in a Maker Faire after party video (around 8:13) from Dangerous Prototypes

The Texting Trapper is a product that detects when people are texting. It is used in the classroom or conference room to indicate when someone is using their phone when they are not supposed to be!
The Texting Trapper is a 3.5 inch diameter attractive-looking hemisphere. It glows in increasing brightness as the power levels change.
Ollie and I brought a blown-up version of this product to get some Market and Technical research from a large crowd with different cell phone providers and cell phone models. Our blown up version is a bar graph which bounces up and down with the cell phone signal levels.

The 8′ bar graph is being triggered by a child texting the sensor circuitry in the globe.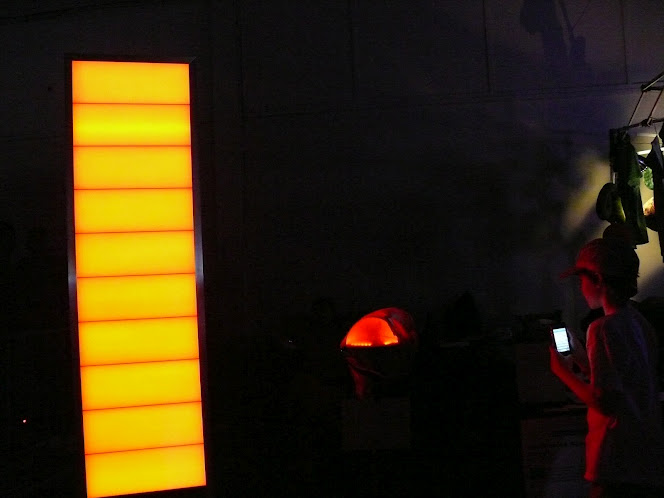 Since the idea of the product is to detect transmitted and received signals from a good distance, I made sure that there would not be any cell towers too close to the Maker Faire site ahead of time. It was fun looking at maps of where cell towers are located!
Unfortunately, since cell service where Maker Faire is located (San Mateo fairgrounds) is poor, a temporary tower was brought in, and placed very close to the building we were exhibiting in.

Check out the cell tower serving up extra radiation!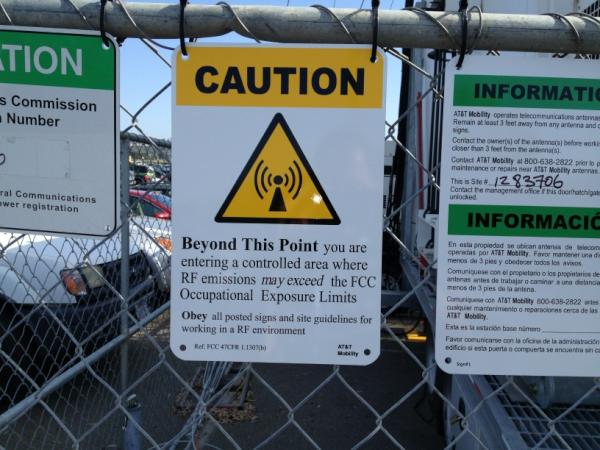 After setting up the exhibit, we realized that it was full on all the time, the cell tower was overpowering the exhibit and we weren't going to be able to show anything except a big, red, bright light.
Not only that, my circuitry was now getting hot since it was designed for pulsing high amps but not running 13 amps through the circuit all the time. UGH.
My new friend Álvaro Prieto made shorter antennas out of solder and tried to fix the situation with the one 5dB attennuator I had brought with me. No joy at all. Over dinner after setup, my friend Pete Doktor suggested we put tin foil around the exhibit to block the cell tower. I laughed at the low-tech suggestion but my wheels were turning. My brother Lex Kravitz, who is one of my favorite project partners, then suggested we build a Faraday cage around the sensor circuitry to keep out the cell tower. He works in a lab that happens to have Faraday cage materials lying around.

Here's Ollie and Lex making the cage on Saturday morning ONE HOUR before Maker Faire opened.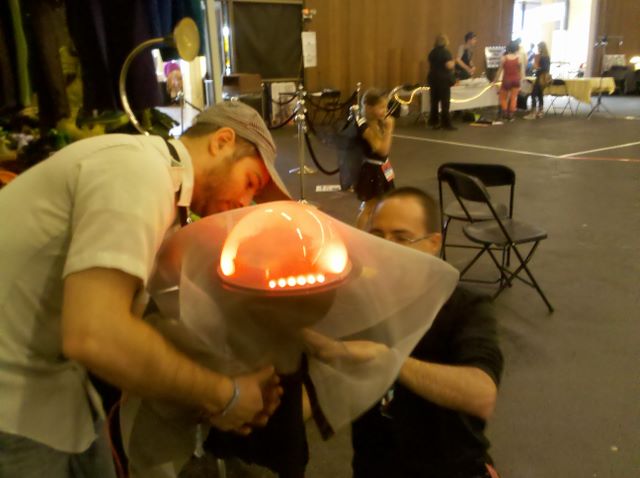 And here's what it looked like during the fair. Not bad, eh?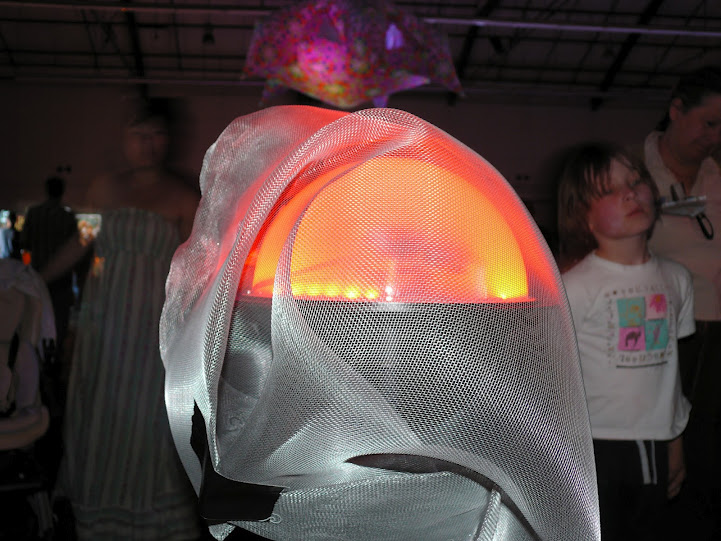 We put my cell phone under the Faraday cage and told people to text the project. Over the course of the weekend, we received over 400 texts!
I've had a few email questions about how Ollie built the bar graph to diffuse the light so well, so I'll detail how he did this in another post.