This installation was designed for the Burning Man festival, August 29 – September 5, 2011
in Black Rock City, Nevada.
Below are some photos of the finished project. It was enjoyed by many people and the solar panels
100% powered the dome (fan, lights, subwoofers and embedded electronics) for the entire week.
Lex dusting off the panels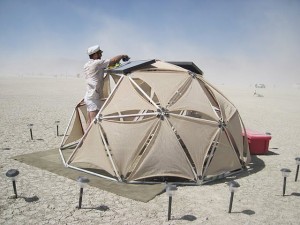 A 14 second video of the dome flashing at night – it was very difficult to edit the sound in, so I added in Setting Sun's catchy dance sound into my vid!

CLICK HERE FOR HEARTBEAT DOME NIGHTTIME VIDEO
The heartbeat electronics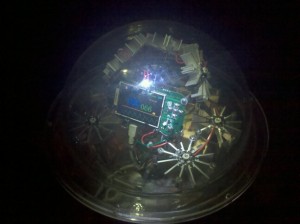 Heartbeat electronics at night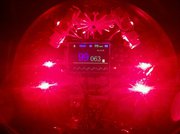 People enjoying the dome!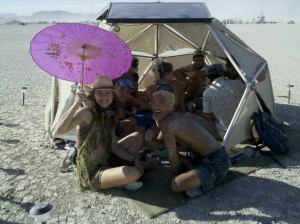 Project description
The HeartBeat dome is a 100% solar powered 10′ diameter geodesic dome capable of holding around 6 people on a carpeted floor.
Black Rock City is a desert environment and temperatures during the day can reach 110 degrees Fahrenheit. Visitors may find themselves hot and frazzled from the heat so they will want to visit the HeartBeat Dome to chill out and cool off.
A 900CFM fan (this means super windy!) is located in the top of the dome, and the sides are covered in gapped shade cloth, allowing wind to pass through.
Participants interact with the dome by placing their finger into the oximeter heartbeat sensor which is placed in the middle of the dome. The participants' heartbeat generates their own amplified heartbeat noise heard and felt through 2 sub-woofer speakers.
At night, LED lights fade in and out in synch with the amplified beat and a small digital display will show their actual heartbeat per minute. By concentrating on their own body, the participants modulate their own heartbeat.
From the outside, the flashing lights are visible when a participant is interacting with the dome, and welcoming solar garden lights will show the way to the door.
We used previously enjoyed batteries to power the HeartBeat Dome at night and we used solar power to run the HeartBeat Dome during the day.
This project produced more energy in the Black Rock City desert than it used. HOORAY!!
We ran a successful Kickstarter campaign to fund the solar panels, charge controller and batteries KICKSTARTER LAUNCHED JUNE 25, 2011!
We reached our goal and then some! We'll use the extra money to buy more lighting, shipping, transistors, resisters and amplifiers…Thanks for all the support!

CLICK HERE FOR HEARTBEAT DOME KICKSTARTER VIDEO
Photoshop picture of pre-built design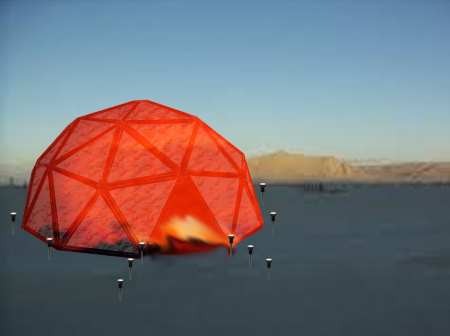 MAKE YOUR OWN
Team members include siblings Sophi Kravitz & Lex Kravitz, Oliver Tanner, Paul Kovalov, Kickstarter video stars Jessica Barry. Sound design by El Diablo.
Want to get involved? Email me!