Last week I visited Finowfurt near Berlin, Germany, Europe, Earth, Milky Way, Universe for the Chaos Communication Camp conference.
The conference was billed as a conference for Hackers and Associated Life Forms. This photo, taken by Jake Blau, is of a rocket sculpture in the center.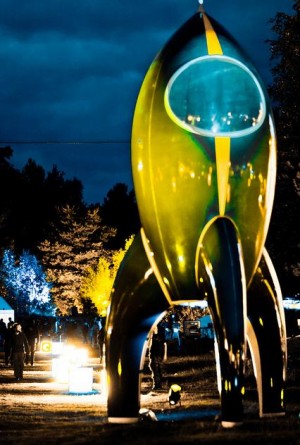 The talks included everything from DIY solar to e-waste to how to avoid having your Whole Identity Stolen by hackers. Workshops included RFID hacking, sushi making and building the TV-B-Gone.
There was tons of conversation about Social Engineering and quitting your job to do what you love.
I'm a big fan of the sport of Hardware Hacking and also thought there might be something there to learn about RF communications, so I went. I was also able to Social Engineer my way in with no ticket…YEAH!
This conference was a camping conference, with lots of big weather-proof tents and the talks set up in hangars. At night everything was lit up with creative LED blinkie-ness.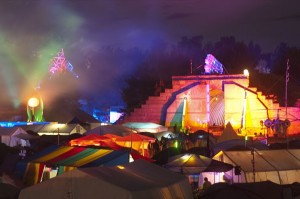 Since it was raining, I camped under a plane. Notice the knitting bomb that someone kindly left for us to enjoy!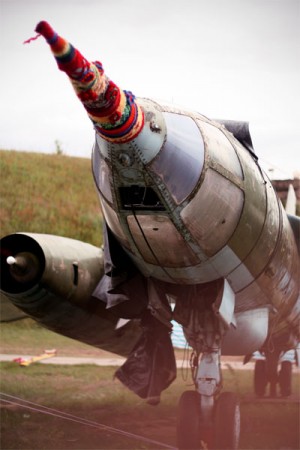 The badges were the coolest I've ever experienced. You could update the firmware on them and get games. And they text messaged with people nearby. Someone attached a Geiger counter to communicate with their badge. Geiger counters have lately, in my opinion, gotten far too popular….the tubes are now too expensive and difficult to source. Grrrr.


Some of the people I met were Hao Zhang, who is organizing a Hacker event in Beijing next April and looking for hackers to exhibit, attend and give workshops. I met the inventor
Jimmie P. Rodgers
, who makes the LoL shield for the Arduino. A couple of 3D printing projects were there
MakerBot
and
RepRap
.
Mitch Altman
is really smart and is a quit your job and do what you love evangelist.
I also met various people from Hackerspaces in Berlin and Vienna and hilariously, in New York City.
A great trip…I highly recommend it, the next one takes place in 2015.