Every Maker or Engineer needs some kind of workshop to create in.
In 1994 I rented a barn on the property of a friend's rental in Olympia, WA. The barn was awesome, with a high ceiling and huge doors that opened up to the outside. In October, when we arrived, it was warm outside. In January, the owner of the huge barn doors removed them from the barn and took them away. I was really into making sculptural hats at the time and I needed my fingers to sew. Brrrr.

In 1995, Tucson, AZ, I bought cubicle dividers and put them up in our kitchen to create some workspace. My good friend and roommate Andrea would call over the cube and ask me if I wanted some stirfry. At that time in my life, I was deeply involved in fish tank building, specifically from junked stainless steel wood stove pipes. The tanks were modular, each tank holding just one Fighting Fish. They plugged into each other to make different shapes.
We ran out of space within the month and moved to a more spacious palace in another neighborhood. People would knock on the gate outside our house asking for drugs and money. The upside was that the rent was so cheap I got an entire room to myself to work in.

In 1996, I moved back home to NY and rented a barn in New Paltz. This barn had a propane heater with a blower and a door with a key. At this time I was doing a lot of silver-smithing, a craft that I pursued seriously for several years. I kept this space until the heater broke.

I moved my workshop to Kingston, NY in 1997. This was a glorious space, a 1200 square foot ground floor space with wood floors and big windows. And super cheap, because the building was for sale. I split the space with Alex Hamilton, one of the most creative people I've ever met in my life. I started getting into animatronics in a big way, building remote control bat wings and puppets with multiple motion eyeballs.

When the Kingston building got sold in 1998, I moved to Manhattan and briefly tried to work out of my 9′ x 9′ bedroom, kicking the dog, Kyote, out whenever I needed to spray glue. Within a couple of months, it was clear I'd need to rent another space. I lucked out, sharing a space with Kelly Gleason and Robert Perez in Dennis Oppenheim's (who died recently but is alive on Facebook, WEIRD) building on Franklin street. Kelly was a Special FX makeup artist and she had crazy jobs coming in all the time. She'd hire me to make gallons of blood, a burnt replica of that guy in 90210, an exploding head. Robert is a photographer who shoots primarily glamour shots- gorgeous photos of women without much clothing on. I'd come to work in the studio and there would be half a dozen naked girls sitting around in one room and severed body parts in another.
I loved that studio and stayed there for 5 years.

Now I have a space in Kingston, NY again. I've had the same workshop since 2002.
Here's a candid shot of my workbench.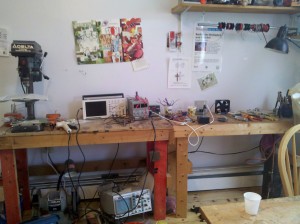 Every engineer needs to have a whiteboard…and a blond wig!