I needed a board layout NOW. While I love Laen's PCB service, I can't wait 2-3 weeks for boards. I'd never etched boards before, but I'm always up for a challenge!
I based my procedure on a bunch of email with my friend Jon and this Hackaday post, which I started reading at 9am.
I already had a schematic and board layout. I altered the board layout to have thick traces and large pin holes so I'd be able to see better where to drill them out.
Radio Shack sells both etch solution and copper boards so off I went.
10am: Here's a first print and a scuffed copper (scuff with green scrubbie pad, not with Brillo)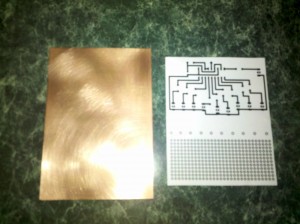 I need a LaserJet printer so that the ink is nice and thick, and also because there is a difference between InkJet and LaserJet toners. InkJet toner doesn't work because it won't stick to the copper, while LaserJet will chemically stick using heat. Jon was kind enough to let me come by his work after lunch to use both the LaserJet there AND their laminator. Jon printed the board print in black, cyan, magenta and yellow, leaving a nice thick layer of ink. We printed the board pattern on shiny magazine paper and regular paper both and compared results. The idea is that shiny paper will release the ink better.

Put paper on top of copper and run through laminator!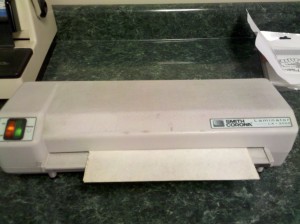 Pull paper off and inspect! Both magazine and regular paper worked pretty well.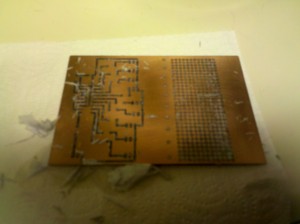 Soak board in etch solution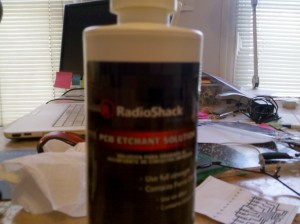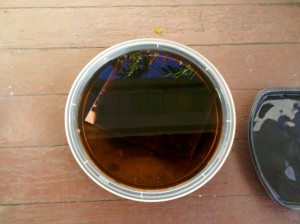 Since it's freezing outside (~45F), it takes nearly two hours to finish etching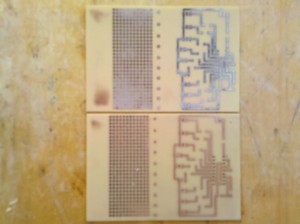 This is a process I will definitely do again, as a board can be made in a day, or a few hours.