My husband Ollie decided to build an Electric discharge machining (EDM) machine a couple of months ago.
EDM machining is a process where a shape is obtained from a piece of metal by using sparks to remove material! If you have a shape that you wish to reproduce-you make a copper positive of the shape you wish to reproduce (hereafter called the electrode), and by passing a high voltage spark between the electrode and the process material (will become the finished part), erode the process material to exactly match the shape you want.
This book by Ben Fleming is really well written and has great schematics and explanations for how the circuitry works. If you've ever had to trace a circuit with a highlighter and a red pen in order to analyze how a circuit is supposed to work, the explanations are appreciated.
There's a lot going on in this project with high voltages, indicator dials, AC, DC and signals. The brain of the whole thing…
(drumroll)
The 555 timer.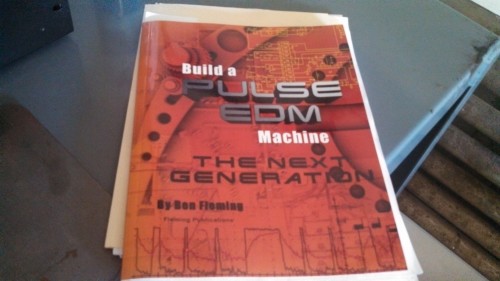 Ollie's EDM machine is coming out really well.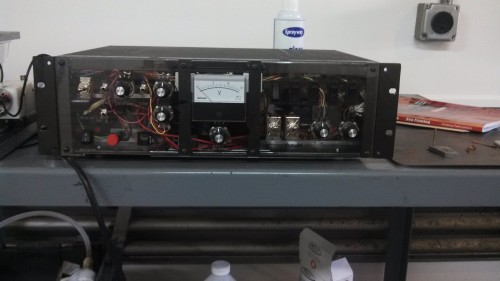 Here is the electrode in the chuck. My cell camera didn't pick up the sparks, but the electrode is sparking a deep hole in the process material in this photo.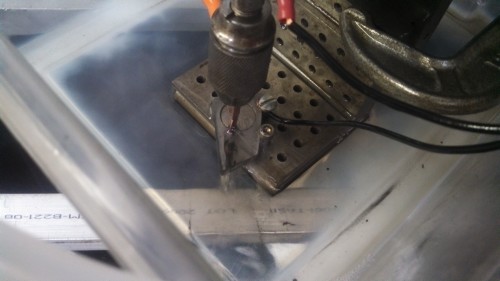 Today we went to Ollie's workshop to tune the spark timing.
On the front of the machine, there are two dials, one for ON time and one for OFF time. They work independently of each other. They are wired to the R1 and R2 on the 555 timer chip for asynchronous control.
We used the scope to see how fast the spark was across the gap in the electrode and the process material when it was doing the best job of removing material.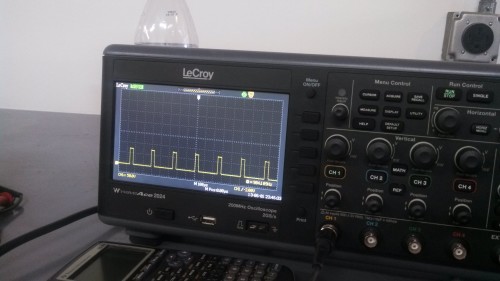 It seemed like it was on the order of a few microseconds (as in…under 4)! As we turned the ON and OFF times to different values, at times, the electrode shorted completely to the process material.
Altogether, a very impressive project!